The Journalism Major prepares students for careers in the news media preparing for positions with newspapers, magazines and broadcast stations as multimedia reporters, photographers, writers, editors and producers.
Campus Times
The Campus Times has been published continuously since 1919, making it La Verne's first student-run organization. The Campus Times has been recognized as the best weekly college newspaper in the state by the California Intercollegiate Press Association and has received consistent All-American honors from the Associated Collegiate Press and Gold Medal awards from the Columbia Scholastic Press Association.
Foothill Community News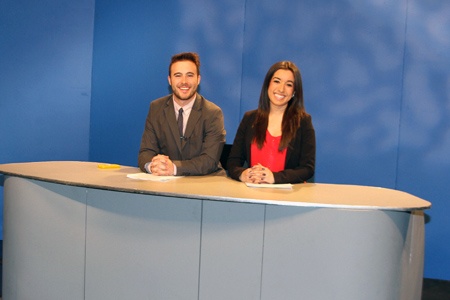 Students produce Foothill Community News, the Communications Department's featured television news show and winner of several first place Society of Professional Journalists National Mark of Excellence Awards. Broadcast Journalism majors become proficient in news writing and reporting, as well as gain the technical skills needed for television and radio broadcasting.
La Verne Magazine
La Verne Magazine is a subscription-based city magazine published by university journalism students. The Society of Professional Journalists, Associated Collegiate Press and Columbia Scholastic Press Association have repeatedly honored it for its design, writing, and photography as one of the best collegiate magazines in the state. Regional libraries such as Honnold Library and the Los Angeles County public libraries recognize the magazine as a documentary publication that is cataloged in perpetuity in their journal archives.
Program Requirements
Broadcast Journalism Concentration: 57 semester hours
Journalism Concentration: 59 semester hours
Prerequisite Requirement
| Code | Course Title | Units |
| --- | --- | --- |
| JOUR 100 | News Reporting | 4 |
Core Requirements: 33 semester hours
| Code | Course Title | Units |
| --- | --- | --- |
| JOUR 115 | News Editing | 2 |
| JOUR 166 | Introduction to Mass Media | 4 |
| JOUR 220 | Newspaper Production | 2 |
| JOUR 226 | Digital Storytelling for Journalism | 4 |
| JOUR 305 | Radio/TV Newswriting and Editing | 4 |
| JOUR 315 | Syntax and Grammar for the Professional Writer | 4 |
| JOUR 460 | Law and Mass Media | 4 |
| JOUR 467 | Ethics of Mass Media — Printed and Electronic | 4 |
| JOUR 497 | Internship | 1 |
| JOUR 499 | Senior Project | 4 |
Broadcast Journalism Concentration: 24 semester hours
| Code | Course Title | Units |
| --- | --- | --- |
| RDIO 230 | Radio Production I | 4 |
| TV 307 | TV News Production | 2, 2 |
| TV 345 | Intermediate Broadcast Journalism | 4 |
Choose 12 Units From the Following Electives
| Code | Course Title | Units |
| --- | --- | --- |
| JOUR 300 | Advanced News Reporting | 4 |
| JOUR 317 | Graphic Production Processes and Design for Publications | 4 |
| JOUR 318 | Survey of Multimedia | 4 |
| JOUR 408 | Special Topics | 2-4 |
| JOUR 465 | History of Mass Media – Printed and Electronic | 4 |
| RDIO 306 | Radio Station and Newswriting and Editing | 2 |
| TV 330 | Film and Television Editing | 4 |
Journalism Concentration: 26 semester hours
| Code | Course Title | Units |
| --- | --- | --- |
| JOUR 220 | Newspaper Production | 2 |
| JOUR 300 | Advanced News Reporting | 4 |
| JOUR 317 | Graphic Design for Publications | 4 |
| JOUR 325 | Magazine Production | 2, 2 |
| PHOT 130 | Introduction to Digital Photography | 4 |
Choose 8 Units From the Following Electives
| Code | Course Title | Units |
| --- | --- | --- |
| JOUR 313 | Feature Writing | 2 |
| JOUR 318 | Survey of Multimedia | 4 |
| JOUR 320 | Newspaper Production | 2 |
| JOUR 408 | Special Topics | 2-4 |
| JOUR 465 | History of Mass Media – Printed and Electronic | 4 |
| PHOTO 327 | Staff Photography | 2 |
| RDIO 306 | Radio News Production | 2 |