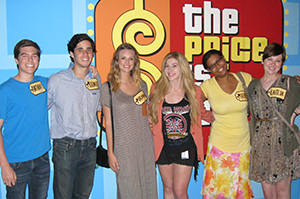 Sept. 19, 2018
7 p.m.-9 p.m.
Campus Center Ballroom A
Creating & Managing Your Online Brand
A panel discussion that will include professors, alumni and Brandi Boatner, digital experience manger for IBM. Moderated by public relations student Arturo Gomez Molina. Open to faculty, staff, students, and alumni.
RSVP: https://www.eventbrite.com/e/creating-managing-your-online-brand-tickets-49625793083
Sept. 20, 2018
6 p.m.
Illuminate Education, 6531 Irvine Center Dr., Irvine, CA 92618
Building Your Personal Brand
Building your personal brand workshop and networking event for alumni in Irvine, CA. $15 per person (includes refreshments).
RSVP: http://thespot.laverne.edu/buildyou
May 2019
4 p.m.-6:30 p.m.
Communications Department Awards Ceremony and Dinner
Join us in celebrating our students' accomplishments over the past year! Awards will be given in the areas of journalism, photojournalism, multimedia, public relations, broadcast journalism, radio and television. The awards ceremony will be followed by dinner in Sneaky Park catered by L&L Hawaiian Barbecue. Admission is free.
May 2019
7 p.m.
Senior Seminar Video Screening
Graduating students in television and broadcast journalism will showcase their culminating projects in this special screening. Admission is free and refreshments will be served.