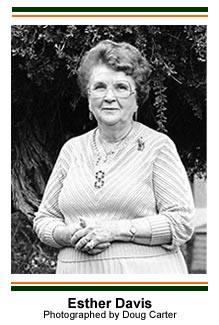 The Communications Department offers a scholarship to students within the Communications Department in memory of its founder, Dr. Esther Ritter Davis. The scholarship is given to outstanding communications students.
Dr. Davis joined the university faculty in December 1975 and, working with Campus Times adviser Gary Colby, proceeded to organize a journalism department. Davis orchestrated the growth of the radio and television departments while serving as department chair.
Dr. Davis died at the age of 83 in May 1991, and left the University of La Verne Communications Department with an impressive legacy.
A native of Formoso, Kansas, Dr. Davis is credited with building several communications departments in area colleges, including Los Angeles Valley College and Pasadena City College. She was gifted at instilling a love of her subject in her students, and then taking a personal interest in their careers.
How to Apply
The following criteria will be used in determining the recipient(s) of the Esther Davis Scholarship:
The scholarship shall be awarded to a student who will be a sophomore, junior, or senior majoring in Journalism, Broadcasting, or Communications. The scholarship shall be used to supplement non-tuition expenses for the recipient(s). The recipient(s) shall be selected by the faculty of the Communications Department and will be based on the student's commitment, involvement, and academic success in the Communications Department. The department may choose, at its discretion, to select a single person or multiple scholarship recipients.
Application Process
Students must submit the attached application, a 250-300 word typed, double-spaced essay explaining the student's involvement in and contribution to the Communications Department, with particular respect to academic achievements and involvement in departmental activities, and an updated resume as part of the application packet.
How to Donate
Those interested in making donations are invited to make a check payable to ULV Davis Memorial Scholarship. Please send all donations to:
University of La Verne
Communications Department
1950 Third Street
La Verne, CA 91750
Current Winner: Florencia Schinoff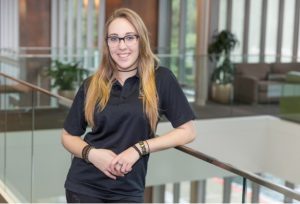 The 20th annual Esther Davis Scholarship was presented to sophomore Florencia Schinoff at the Communications Department Awards Ceremony on May 20, 2017.
Florencia, from Corona, California, is a broadcasting major with a concentration in television and a minor in Spanish. She has crewed on several LVTV and KWST shoots and serves as a student ambassador with the office of undergraduate admissions. She is a member of Alpha Lambda Delta Honor Society and Phi Sigma Sigma sorority in addition to her experience volunteering for the March of Dimes and the Phi Sigma Sigma Foundation. She aspires to be a filmmaker with an emphasis on Hispanic culture.
Congratulations, Florencia!