New Histories is a group exhibition of paintings and sculptures by Walpa D'Mark, June Edmonds, Asad Faulwell, and Erin Trefry. With an idiosyncratic use of images, and signifiers, these artists offer access into rich visual worlds of personal reflection, layered symbolism, and prophetic vision.
Looking at Walpa D'Mark's canvases we enter imaginary worlds of memory and emotion where we find beauty and conflict. Deep twilight tones cast these worlds in a dream-like space, and auras of color hover above vails of shadows. Weaving layers of representational imagery into expressive abstract passages, these paintings obscure and reveal fragments of narratives that are charged with social and political themes. By juxtaposing cultural iconography and political portraiture D'Mark presents a highly personalized view of the past and vision of the future that seems to question how we understand social signifiers and how we recognize individual identity. Amid the hide and seek of motifs and meanings a masterful sense of color and compositional balance unites the shifting energy of these poetic moments.
June Edmonds' paintings are formally rigorous employing careful precision and textural brushwork to compose rows, bands, and grids of complex color juxtapositions. This methodical order, color theory, and attention to detail are orchestrated to create a large image of a mandala or a flag. The mandala works present a spiritual space and their repetition of color and pattern allude to meditation and introspection. Edmonds's flag pieces explore notions of identity, race, and gender. "Innocence" 2020 is a horizontal canvas that uses the format of a confederate flag and has a palate of pastels. Many rows and stripes of subtle pinks, peaches, tans, and whites make up the ground, and two corner to corner bands of various light blues compose the X. Narratively this painting can be read as a removal of the richness of color and a push towards "lightness" as a false ideal of purity or innocence.
Asad Faulwell's portraits are an excellent example of interior/exterior. How do we appear to others? How do we engage with our environment? What's going on inside? What are we willing to reveal? Who are we below the surface? In Faulwell's modestly scaled densely packed paintings, women's faces are painted with subdued gray tones and dark eyes creating a mask or ghost like presence. These portraits are part of a continuing series titled "Les Femmes d'Alger" and depict women who actively participated in the effort to resist the French colonialism of Algeria. Their empty eyes become access points, and these ocular portals seem to unlock the elaborate patterning of their clothing and the imaginary backgrounds. The blossoming architectural geometry is amplified with vivid color and appear to embody and celebrate the depth and beauty of their interior selves.
Whether assembling objects into sculptures or painting abstract forms on a canvas, Erin Trefry's work taps into the subconscious spaces of an elusive identity. Her bold wall-mounted sculptures are comprised of purse handles, glazed stoneware, stainless steel, drawer pulls, and other various components. The found objects, some of which are inherited from family, add a sense of nostalgia. With an intricately overlapping symmetry, these compositions allude to Rorschach forms that are simultaneously building toward subjective imagery and dispersing into pure abstraction. On Trefry's canvases colorful tangles of abstract brushwork swirl and intertwine. The sinuous networks of looping colors appear to be evolving into still-lives or stage scenes. Instead of flowers and fruit, or actors and dancers, these mysterious spaces are filled with thoughts and feelings that yearn for our attention.
– Dion Johnson, curator.
Gallery of Images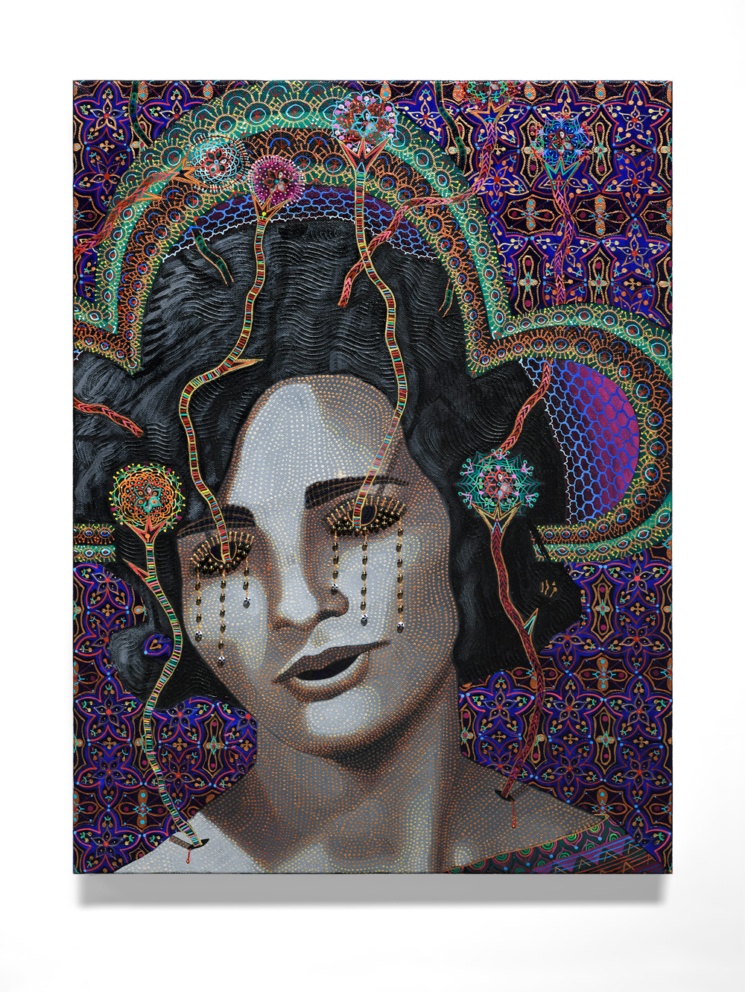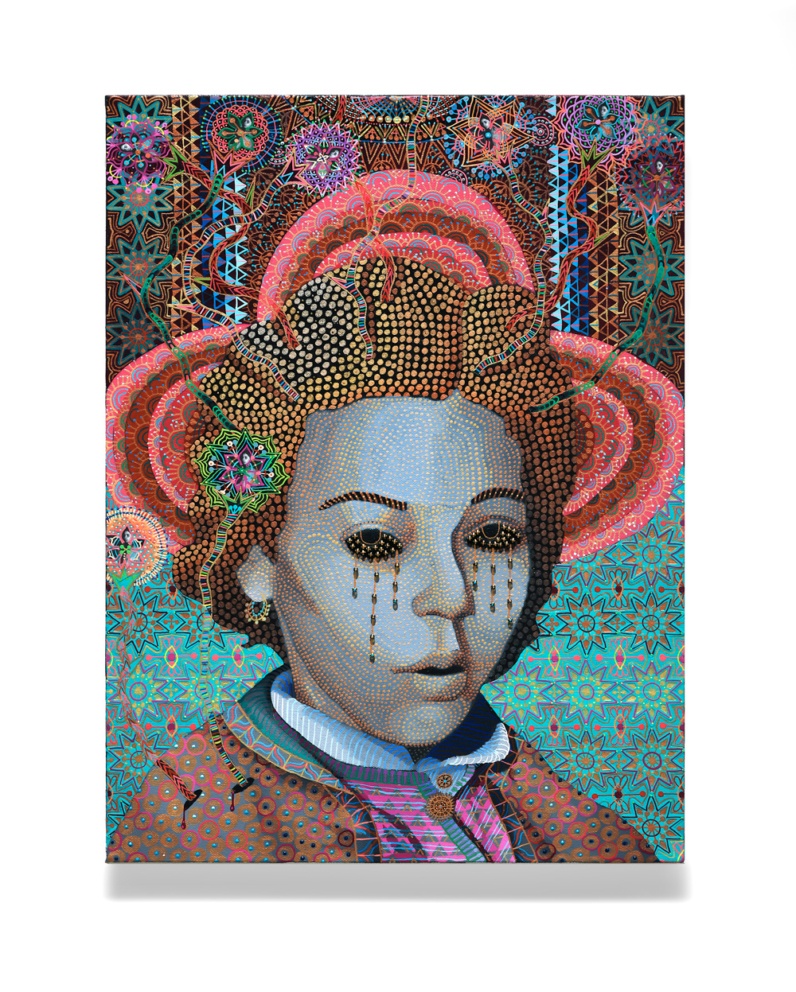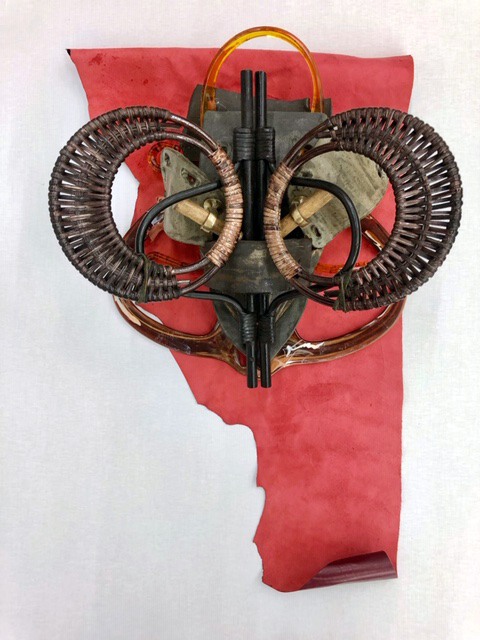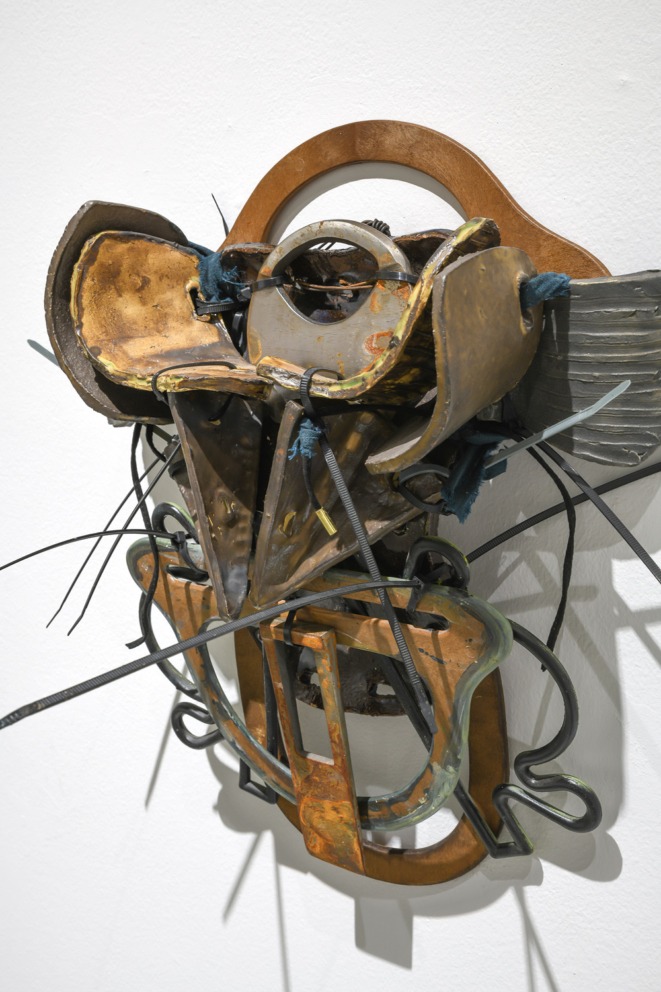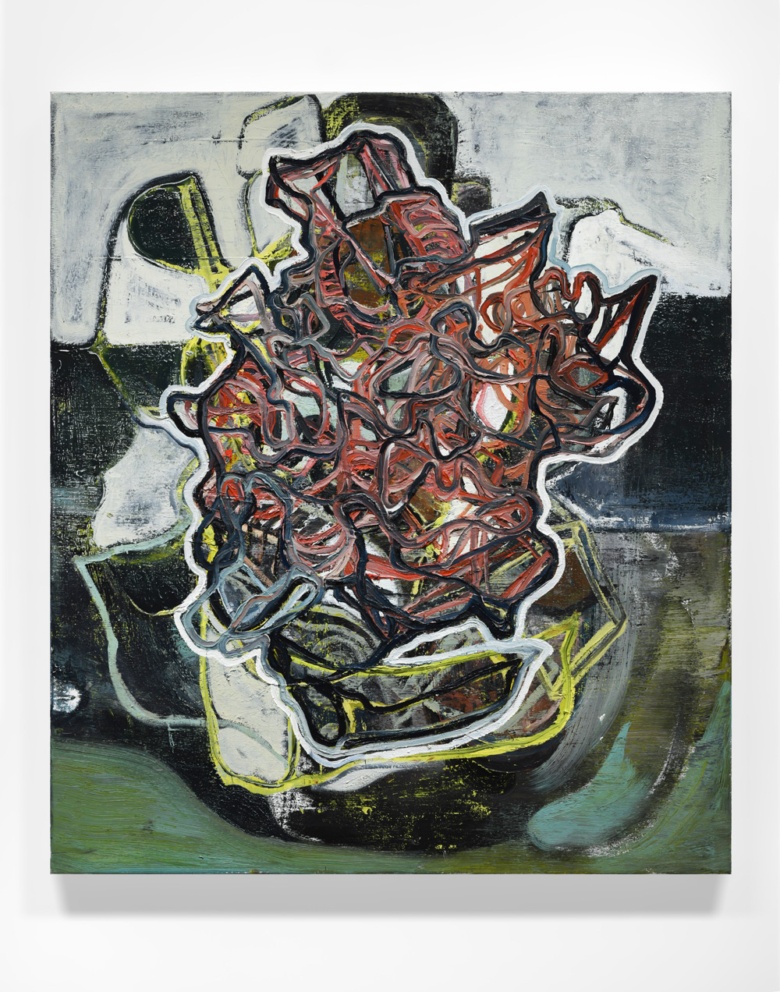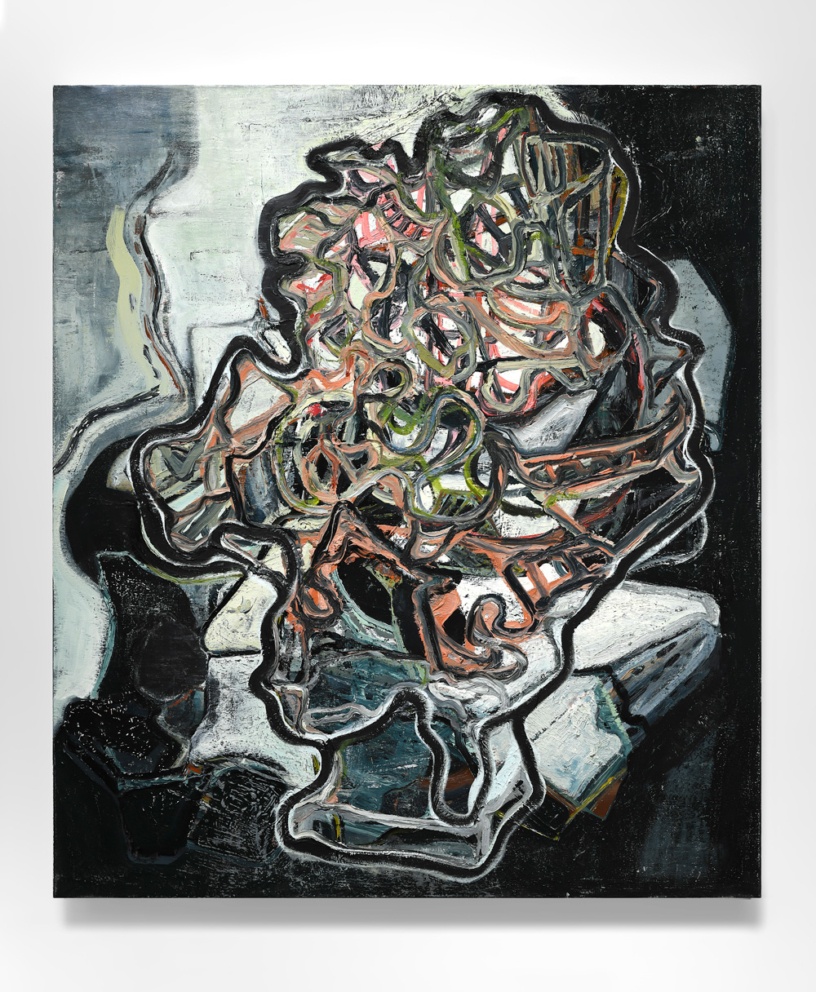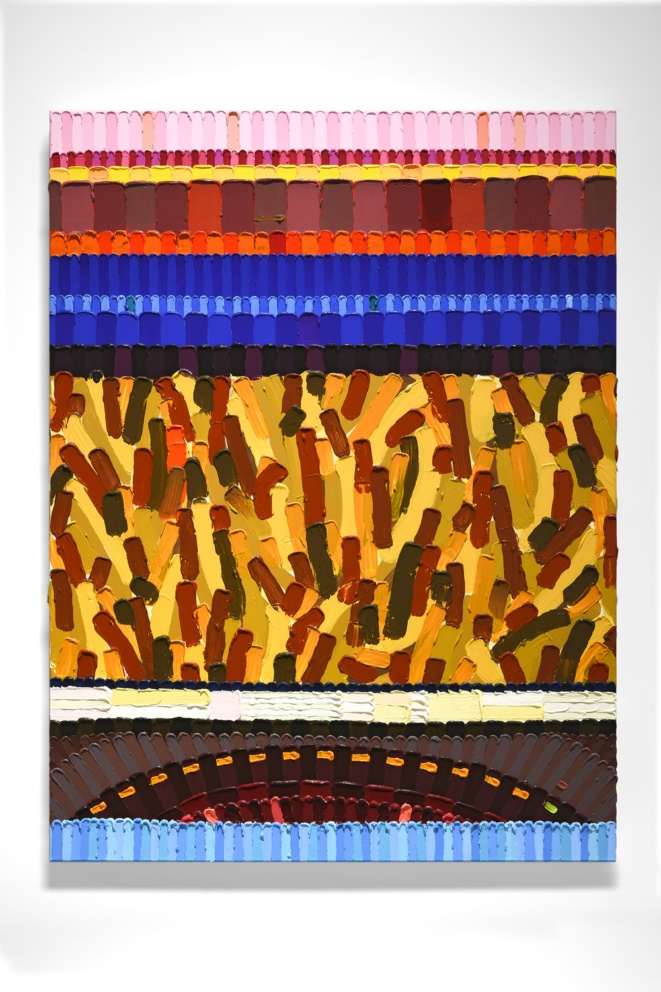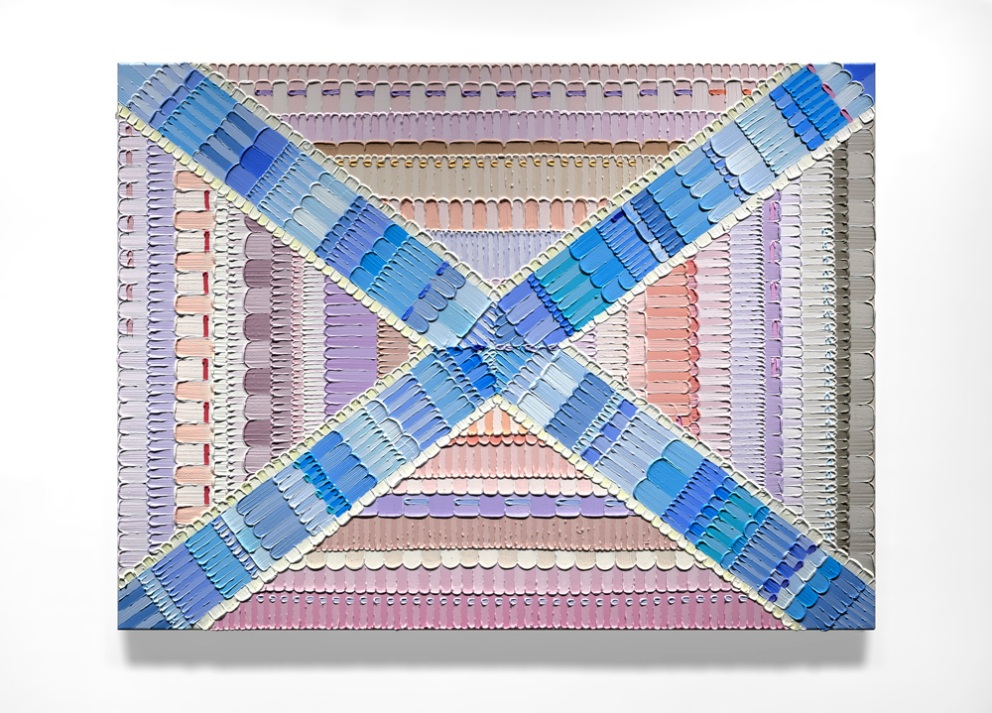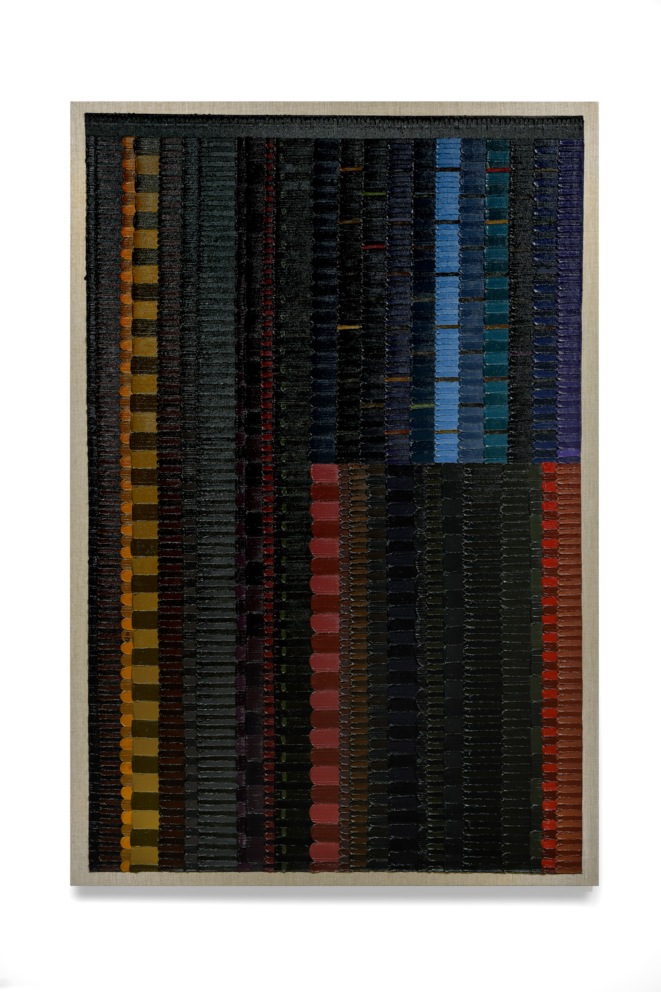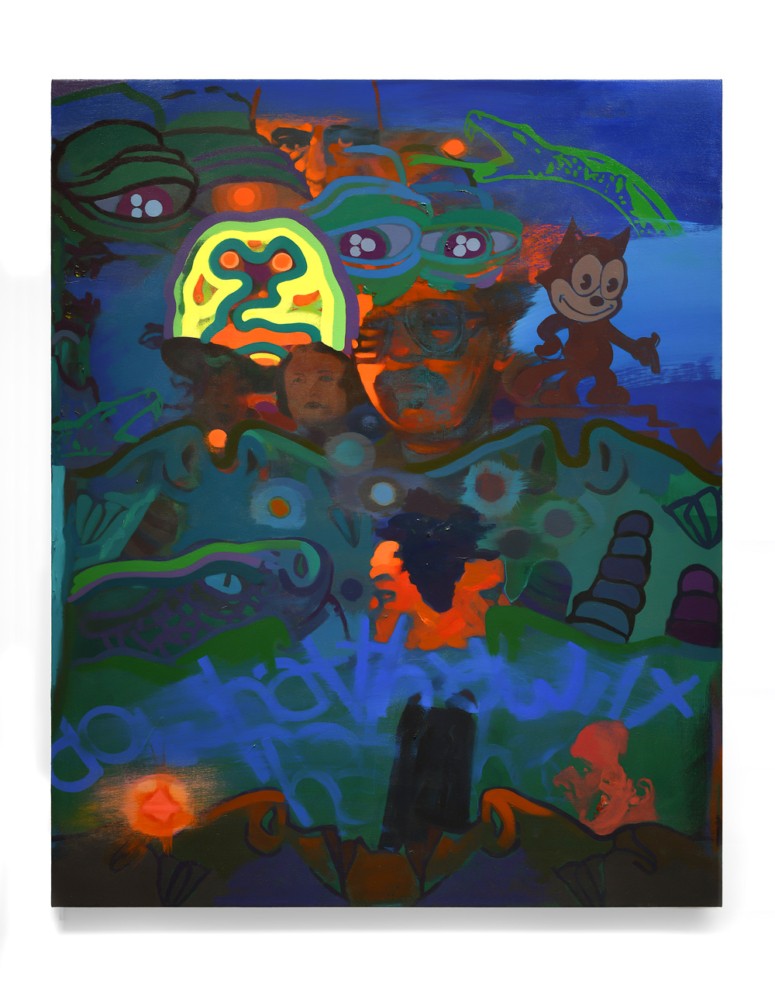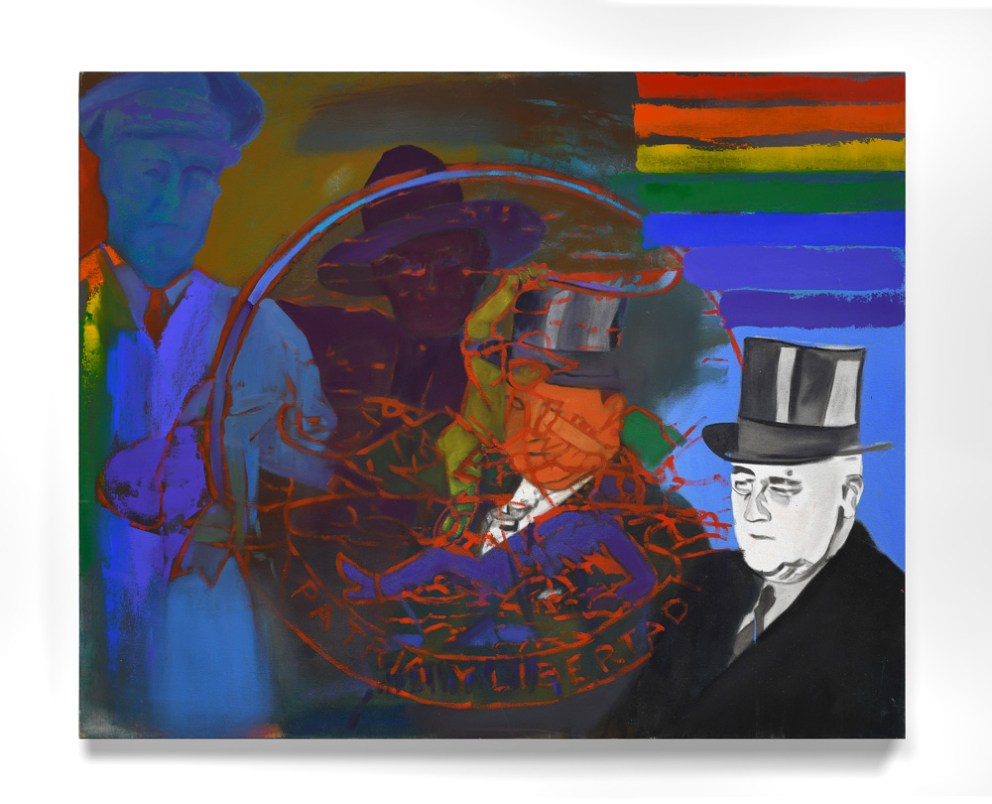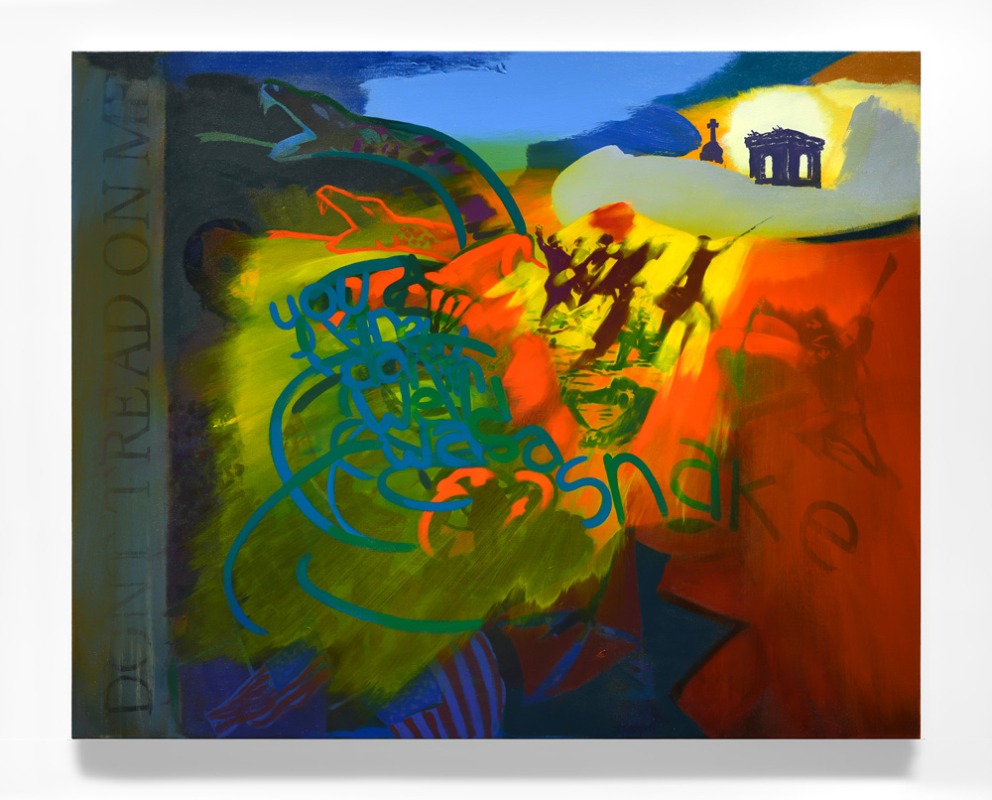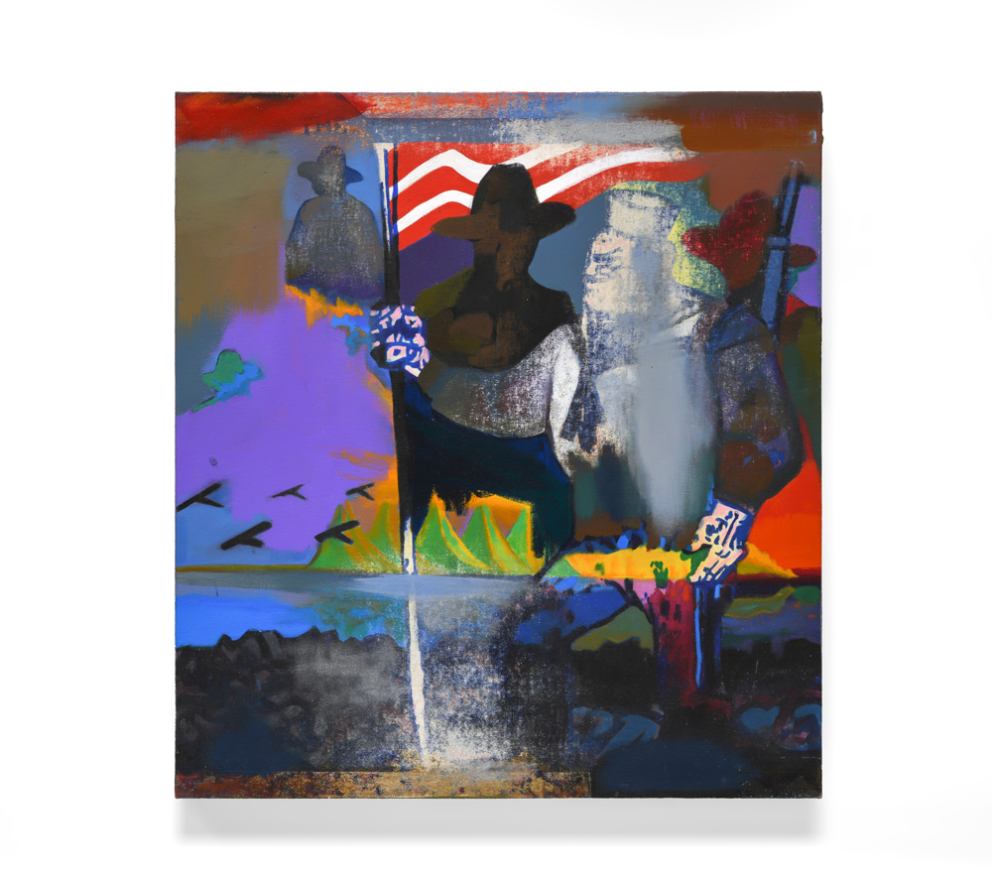 About the Artists
Walpa D'Mark creates self-reflective paintings by using figuration with historical and popular references that intersect between Nicaraguan and American history and politics.
Walpa D'Mark was born in Managua, Nicaragua. He has exhibited in the L.A. arts community, including at Track 16, Mark Moore Gallery, Coagula Curatorial, and Torrance Art Museum. Internationally, he has exhibited in South Korea, Mexico, and Germany. He is a Senior Adjunct Professor at the University of La Verne, and Lecturer at Loyola Marymount University. Walpa holds a BFA in Drawing and Painting from California State University, Long Beach, and an MFA in Painting from Claremont Graduate University.
June Edmonds uses abstract painting to explore how color, repetition, movement, and balance can serve as conduits to spiritual contemplation and interpersonal connection to her African-American roots. Exploring the psychological construct of skin color or tone through pattern and abstract painting has proven to be a revealing gesture and these ideas are explored in her three ongoing series: the Energy Wheel Paintings inspired by her meditation practice, her Extracted Maps, and her Flag Paintings, which explore the alignment of multiple identities such as race, nationality, gender, or political leanings.
June Edmonds was born in Los Angeles, where she lives and works. Edmonds received her MFA from Tyler School of Art, Philadelphia, and a bachelor's degree from San Diego State University. She also attended Skowhegan School of Painting and Sculpture and is the recipient of the inaugural 2020 AWARE Prize, presented by the French non-profit Archive of Women Artists Research and Exhibitions; the 2020 Harpo Foundation Grant for Individual Artists, a 2018 City of Los Angeles Individual Artist Grant (COLA) and Exhibition at the Los Angeles Municipal Art Gallery; a California Arts Council Individual Artist Grant; Paducah Artist Residency in Kentucky; Helene Wurlitzer Foundation artist residency in Taos, NM; and Dorland Mountain Community artist residency in Temecula, CA.  Edmonds has exhibited at the California African American Museum, the Los Angeles Municipal Art Gallery, Luckman Fine Art Gallery at Cal State Los Angeles, Watts Tower Art Center in Los Angeles, CA; Angels Gate Art Center in San Pedro, CA; and the Manhattan Beach Art Center in Manhattan Beach, CA. Edmonds has completed several works of public art with the city of Los Angeles and the Department of Cultural Affairs, including an installation at the MTA Pacific Station in Long Beach, CA. Her paintings are held in collections throughout the United States including the California African American Museum, Los Angeles; Mead Art Museum, Amherst College, Amherst, MA; Davis Museum, Wellesley College, Wellesley, MA; David Owsley Museum of Art at Ball State University, Muncie, IN; The Pizzuti Collection, Columbus, OH; as well as Rodney M. Miller Collection, New York, NY; Michael Rubel Collection, Los Angeles, CA: David Rogath Collection, Greenwich, CT; and Kelly Williams and Andrew Forsyth Collection, Palm Beach, FL among others.
Asad Faulwell is a California-based artist whose work has been shown at The Nelson-Atkins Museum, Nerman Museum of Contemporary Art, Orange County Museum of Art, and Los Angeles County Museum of Art among others.  His work is included in numerous private collections as well as the permanent collections at The Nerman Museum of Contemporary Art, OCMA, The Columbus Museum of Art, The Nelson-Atkins Museum, and LACMA.  Asad is represented by Kravets/Wehby Gallery in New York and Lawrie/Shabibi Gallery in Dubai.
Erin Trefry lives and works in Los Angeles, California. She received her BFA from Maryland Institute College of Art, and has studied at Occidental College, Los Angeles, CA; ArtCenter College of Design, Pasadena, CA; AICAD/New York Studio Program, New York, NY; and Parsons Paris Study Abroad Program, Paris, France. Trefry's work has appeared in group exhibitions across Los Angeles at No Gallery, TSA LA, 0-0 LA, Institute of Contemporary Art, Los Angeles, Monte Vista Projects, ODD ARK•LA, Eastside International, Big Pictures Los Angeles, and Los Angeles Contemporary Exhibitions (LACE). Recent Press includes Artforum, Arts Meme, KCRW, Beverly Press, and Full Blede.