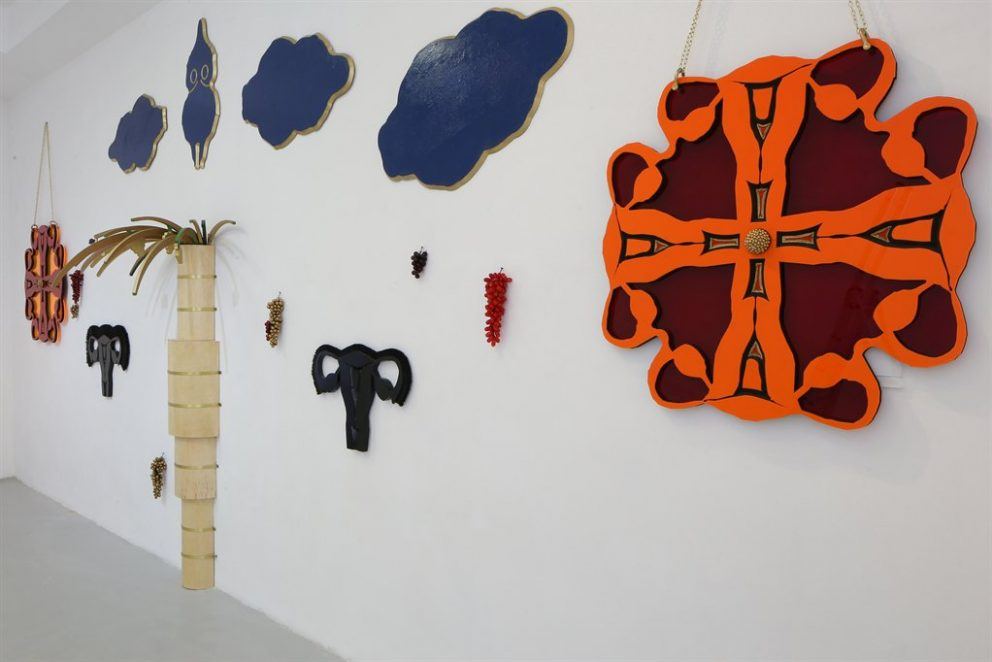 Etchi Werner-Nyiri's wall installation, The Expulsion, references a long tradition in art history of depicting Adam and Eve's forced exile from the Garden of Eden. That moment of God's chosen first couple marks the first sin of the human kind and their demotion from the circle of favorites to the level of those who were thrown out.
For this piece, Werner-Nyiri (born in Slovakia, 1946) uses a feminine organ and symbol – the ovaries – in order to create a pictorial scene of a garden of lost fertility. As the hegemonic culture nourishes the role of the female as a birth giver and eternal mother, the postmenopausal artist aims to construct an opposition that celebrates femininity as an independent quality, a celebration of unleashed life that is released from rigid social and gender roles.
Some of her solo exhibitions include: Hive Mind, Gonda Brain Research Institute, UCLA, Los Angeles, CA; Birds, Bet Alon Museum, Kibbutz Ginosar; New Forest, Merhav for Art Gallery, Jaffa; Shoham Gallery, Tel Aviv, Israel; The Zodiac, Opera House, Tel Aviv; and ZHOU B Center, Oscar Friedel Gallery, Chicago.
The Expulsion will be on view from February 1 to May 15, 2018 at the Tall Wall Space in the Arts & Communications Building at the University of La Verne.