Linda Nguyen Lopez, Jon Pylypchuk, Nicolas Shake, Vincent Tomczyk, and Connie Martin Trevino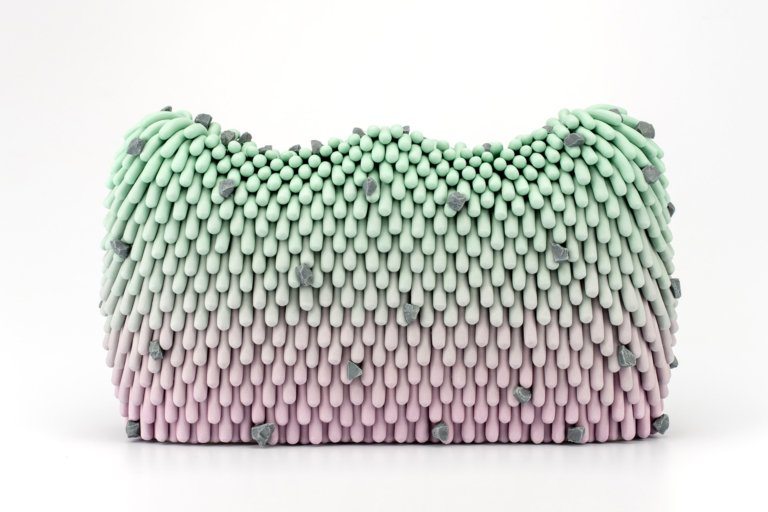 Asymmetrical Orbits is a group exhibition of sculptures, three-dimensional works and curious objects by Linda Nguyen Lopez, Jon Pylypchuk, Nicolas Shake, Vincent Tomczyk, and Connie Martin Trevino. 
The attention-grabbing textures of Linda Nguyen Lopez's Furry ceramic pieces have a patterned uniformity like modular modernist architecture and a playful attitude like a stylish Muppet hairdo. These sculptures often have gradient colors with small bits of gold evenly attached across the undulating surface; the subtle color shifts and metallic ornamentation emphasize their poses and gestures. Like house pets from an imaginary world these works possess distinct personalities and yearn for our affection.
The curvilinear planes of Nicolas Shake's dyed plastic wall mounted sculptures are comprised from rows of raised linework. Created from the imprint of automobile tires, the textured surface guides our attention in multiple directions around the entire object. The sculpture's dyed color palette feels like an organism's natural pigmentation. Cactus areoles bathing in sunlight and snakeskin patterns slithering in shadows come to mind as we examine Shake's striking combinations of colors and textures.
Concocted from clay and color, Connie Martin Trevino's abstract ceramic sculptures exhibit a full range of emotions and seem to be alive. Layered color glazes imbue her organic forms with a radiant energy. This energy appears to activate her work as though it's growing like a magical plant or morphing like an imaginary sea creature. While modest in scale these objects have a tremendous presence; and their unique mannerisms invite us in closer, as if they have a secret to share. 
Vincent Tomczyk's precise trompe l'oeil sculptures reveal themselves in stages. Initially, there is the impact of recognition – a chair, pair of shoes, or other ordinary object is seamlessly created from folded paper and cut cardboard. Then, more slowly, the replicant seduces the viewer as the surfaces and details are examined and the care and skill of the artist's hand are seen. And finally, stepping back to take it all in, a title or contextual clue starts to reveal an autobiographical narrative or meaningful allegory embedded in the enigmatic object. 
If you are feeling lonely, you are always invited to visit Jon Pylypchuk's world – an enchanted place where questionable characters and friendly monsters maybe thinking up schemes, drinking themselves sick, or sinking in ooze. His sculptures are made from a little of this and a bit of that, an approach that mixes the practical and conceptual in just the right way. Gazing up at us with black cue balls and scooter sized innertubes for eyes, a smiling figure with paint brushes for arms and hands is ready to paint a heartfelt picture and a tell an adventurous tale.