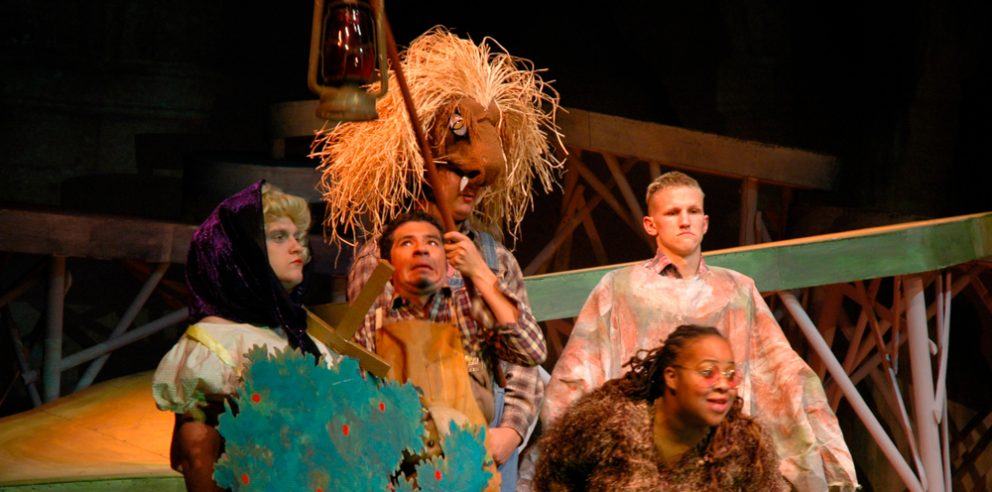 Learn more about the size, capacity, lighting, audio, and other features that make Dailey Theatre a compelling place to stage productions at the University of La Verne.
Stage Type

Modified proscenium/thrust

Seating Capacity

175 permanent seats in five rows.
175-250 capacity possible depending on configuration of stage.
5-8 rows of seats, depending on configuration.

Stage Dimensions

Diameter: 90' diameter wall to wall
Width: 36' between the main support poles at the stage floor.
19' between the main support poles at the bottom of the catwalk
Depth: 29' 6" from front edge of center stage to the cyclorama
16' diameter apron, in a modified semi-circle, with 13' 6" of net added depth from the front of the stage.
Height: 20' from stage floor to the bottom of the catwalk
Apron area is 29" below stage floor to the carpet level.
Apron is 12" below stage floor when installed.

Audio

Mackie SR24*4-VLZ Pro, 24 channel mixer.
5 x Sure L4 series wireless lavalier microphones
Marantz CDR631 CD Player & Recorder
Denon DN-V300 DVD Player
2 x M1400i Mackie amplifiers

Stage floor

Sprung floor with masonite finish, painted black.
Removable apron for additional seating.
Fastening, screwing or nailing to the floor is allowed, but only with prior approval.
Painting of the stage is allowed with prior approval.

Dressing Rooms

There are two dressing rooms, each suitable for 6 to 8 people.
Each dressing room has its own bathroom, sink and shower.
The Jane Dibbell Cabaret can function as an additional dressing room or warm-up facility, but sound barriers between the two theatres require limited noise in the Cabaret during performances on Mainstage.

Dimming and Control

48 x 2.4k digital dimmers.
18 x 2.4k analog dimmers. (plus 18 x 2.4k dedicated to the Cabaret)
6 x 7.2k analog dimmers. (plus 18 x 7.2k dedicated to the Cabaret)
ETC Express 48/96 lighting console.
6 x 2.4k non-dim circuits
2 ea. Comet follow spotlights in FOH positions, on raised platforms house left and house right.

Other features

Hard cyclorama painted sky blue. Dimensions 20' h. x 25' wide with curved 10' wings on either side.
Grand drape maximum opening 27' 6".
Black traveler is often installed on I-beam track at 27' or 28' from edge of stage. Traveler does not have a pull-line installed.
Fog, haze, pyrotechnics, candles, incense, open flame, smoking, and all rigging require approval by the Theatre Arts Department. If your show includes any of these things, please inform the Theatre Manager at least 30 days prior to your performance. These things may be impossible without prior notice.
For lighting and/or sound inventory, please contact Technical Director Alan Tollefson at (909) 448-4552.